---
THIS SPACE IS FOR YOU!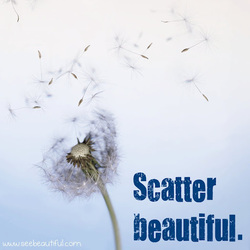 See Beautiful™ was born from a collective voice of concerned individuals who noticed (1) Women are beautiful! (2) Society tells us otherwise; and (3) We're not okay with society's message to question our inherent beauty!
See Beautiful™ strives to be a place where girls and women feel empowered, feel themselves, and recognize their beauty.
See Beautiful™ is forever committed to supporting females and spreading the message that YOU ARE BEAUTIFUL.
Below you will find a comprehensive list of resources supporting girls and women! Check out our "See Beautiful's" page to celebrate our See Beautiful Woman of the Month!
Below you'll see beautiful in:
Our See Beautiful Woman of the Month
Excellent resources for Girls and Woman
---
---
Rhina Fernandes Williams
is beautiful. She radiates it. She creates it. She celebrates it. She lives it. Creating beautiful, that's what she does.
Rhina's beauty reverberates from her teaching, writing, speaking, parenting, relationships, giving, laughter, love, and presence. Visit
Rhina's blog
and you'll immediately see what we mean. Her writing is capable of moving another to laughter, tears, and action. Her
writing
has the ability to deepen relationships and make you look forward to new chapters in your life (
we know, its happened to us repeatedl
y). Rhina shares her truth with others and that willingness to share is a gift that can move us all forward, while nudging us gently to reflect as well.
She creates beautiful in the classroom with young children and "older-ish" college students. Her invitations to think more deeply, more critically, more thoughtfully, and more beautifully about the world have changed lives (again, we know, we've seen it happen).
Rhina helps so many peel back the outer layers of "self" and dig inward to understand how experience, beliefs, values and life in general can be used to empower and inspire. She is an inspiration to so many. Her beauty radiates. She passes on this beauty by sharing it and that's making the world a better place every day.
Rhina's laugh in infectious. Her kindness is the type that immediately makes you feel like you're sitting with a wonderful friend in short minutes. Watching her with her children is moving. Listening to her teach is a gift. Reading her writing is, and will continue to be, life changing. Calling her a friend is an honor. Knowing she shares herself to create more beauty in humanity is a perfect example of what the world needs more of.
Rhina
is an artist at life and she's created a beautiful one. What's even more special is that she shares it with the world. It's is a gift for us all. Thank you, Rhina. Thank you so much.
---
See Beautiful Woman of the Month: RHINA FERNANDES WILLIAMS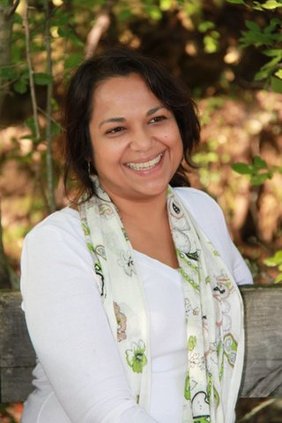 Unlocking Beautiful
Written by Rhina Fernandes Williams

I have spent the last 24 hours trying to think of what to write about how I see beautiful in the world. I've felt stuck. Writing usually comes to me naturally, but none of my everyday inspiration seems to be showing up today. I finally sat down in front of my computer and put my hands on the keyboard and am now telling you all about it in the hopes that the keys will have their own inspiration.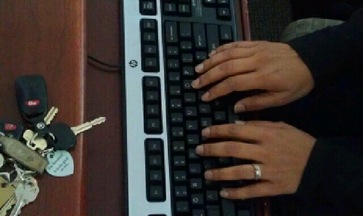 Keys. Keys are beautiful. Keys open things. Keys open doors and treasure boxes and diaries and homes. Often, keys open things that are valuable. Things that we want to protect or only get into when we're ready. What's inside is often special. But not only do keys open things, keys have to be USED to open things. Someone has to turn the key. Keys are nothing on their own and they are nothing in the wrong hands or in the wrong keyhole. Keys are specific to the one who holds them and also to the treasure they unlock.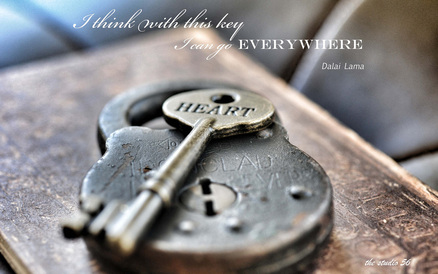 Keys are beautiful because they remind me that we all carry all kinds of keys with us to all kinds of treasures. Some of the keys are for treasures just for us, but some keys are meant to be given to their rightful owners to unlock their treasures. And the moments that we find ourselves witness to or responsible for a key getting into the right hands that unlock the right treasures are simply beautiful. I guess these are the moments in which I see what's most beautiful in the world. It's when one human heart leans into another and whispers a kind word or brave word that is the key the other heart uses to open up a life she dreamed of. It's when one human hand quietly holds the frail, sick hand of another and in their silence offers a key that unlocks a door to peace. It's the moment when a teacher teaches from the heart and a student unlocks a way to understanding the world from the heart first.

And, of course, it's when one beautiful human being starts a movement to toss beautiful keys daily to everyday people who toss them to others who toss them to others until all the beautiful that was locked up inside them is out in the world for all to see. Thank you See Beautiful for these daily keys to help us unlock the beautiful inside us so that we can better see the beautiful in others.
I think I'm done now! Who would have guessed that sitting in front of my computer and placing my hands on a keyboard would be my inspiration. Turns out, we can find inspiration to see beautiful in everyday mundane things such as the keys on a keyboard. Here's hoping this little piece of writing is a key for you to see beautiful today.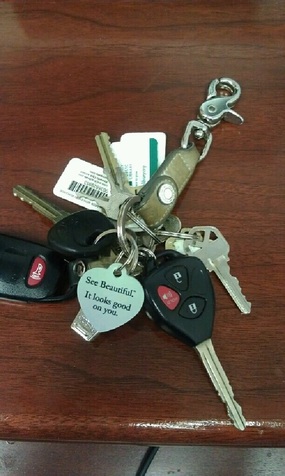 ---
Recommending a See Beautiful™ Girl or Woman of the Month

Every month
See Beautiful™will select a beautiful girl or woman of the month.
Here's how is works:
1. You email us (mystory@seebeautiful) why YOU or SOMEONE you know is beautiful. You can talk about your own beauty or how you see beautiful in the world.
2.
In your email, include contact information so we can email you if you're selected.
3. You'll be free to share a picture of yourself or any image you want that feels represents you.
4. We'll feature all you beautiful girls and women and can't wait to show society how BEAUTIFUL we are!!
Past See Beautiful Girls & Women of the Month
---
RESOURCES FOR GIRLS AND WOMEN

As we scour the planet searching for
See Beautiful™ exemplars, we'll share them here. Consider this a resource for finding more like-minded people involved in the movement to support girls and womens' empowerment of their own beauty, strength, and ability.
ALLIANCE FOR GIRLS: "Girl-centered, Community-based organizations and individuals committed to assessing and addressing girls' needs and helping girls reach their potential":
AMAZING WOMEN ROCK: They honor, support, and celebrate amazing women!
BE YOU BOLD: "BOLD Magazine promotes confidence, strength, and self esteem. Their goal is to empower young women to be themselves through encouraging and engaging media."

BEAUTY REDEFINED: "Taking back 'beauty' for girls and women everywhere!"

BEAUTY COCOON: Committed to "helping young women to realize their potential and live life to the full through exploring their identity."
CARE: "Defending dignity. Fighting poverty."
CHARGE MAGAZINE: "Our mission is to provide a publication that challenges, encourages and empowers teens through relevant topics."
DAY OF THE GIRL: "The Day of the Girl is about highlighting, celebrating, discussing, and advancing girls lives and opportunities across the globe."

EVE'S CIRCLE: "Empowering the girls of today to become the women of tomorrow!"

FEELGOOD STYLE: "Reclaiming what style means by choosing products that are good for you and for the planet and by focusing on health, happiness, and natural beauty, inside and out."
FLOWER POWER MOM: Honoring the truth about motherhood after 40
F.L.Y. MENTORING SERVICES: "Dedicated to teaching lifeskills, etiquette, and self-esteem to African American girls the ages of 11-17."
GET C* FIT: "Creating a world where its about what your body can DO, not what it looks like. Fuel your body and feel the difference exercise makes in your life"
GIRL ADRENALINE PRODUCTIONS: "Bridging the gap between girls & bullying, social media dangers & sedentary lifestyles."
GIRL INFINITY: "An empowering social network for girls."

GIRLS FOR A CHANGE: Where "girl power" and activism result in change.

GIRLS GUIDE TO SWAGGER: On a mission to raise female confidence and empower women

GIRLS LEADERSHIP INSTITUTE: "Inspiring girls to be their true selves"
GIRLS ONLY CLUB: Reaching out to girls worldwide to help them "appreciate differences, life situations, or overall hardships"
GLOBAL FUND WOMEN: "Promoting women's economic security, health, education and leadership"

GLOBAL GIRL MEDIA: One woman's belief in the power of her voice
GLOBAL WOMEN'S NETWORK: "striving to be the largest collaborative information source on women's and girls' organizations operating around the world."
HAILEY'S HOUSE: "Bridging the gap between parents and teens by guiding middle school-aged girls to become the best version of themselves and empowering parents with the skills necessary to continue to bring the best out of their daughters."
INTERNATIONAL PRINCESS PROJECT: "Advocating for women in enslaved prostitution. Restoring their broken lives. Empowering them to live free.

REALIZE YOUR BEAUTY, INC.: "Promotes positive body image by way of the arts."
SEE MAGAZINE: Sharing stories of "empowered girls and women."

SELF USA: "Entrepreneurship, Leadership, & Social Network for Girls."

SHE HEROS: Inspiring girls to be the world's next heroes
SHE'S THE FIRST: Committed to providing education for young girls
SheWill: "Organization committed to educating young girls (age 8-17) on the importance of financial literacy and career empowerment."

THE DRESSING ROOM PROJECT: "Promoting positive body image through girls' social activism - encouraging a healthy body, mind and spirit."
THE GIRL EFFECT: Arming Girls and Women with the opportunity to make a difference
THE GODDESS PROJECT: Celebrating the stories and lives of women around the United States through a documentary film.
THE RUBY PROJECT: "Simply, beautifully, undeniably, ruby." Inspiring girls to empower themselves and others.

THINK PEACE WORKSHOP: Committed to teaching peace building through global awareness and sensitivity
UN WOMEN: "United Nations Entity for Gender Equality and the Empowerment of Women and Girls

WE ARE PRICELESS: Committed to helping women understand they are "priceless"

WOMEN FOR WOMEN: Helping women survivors of war rebuild their lives
---
Have a resource to suggest?

---
See Beautiful™ © 2011-2013. All Rights Reserved.