---
THIS SPACE IS FOR YOU!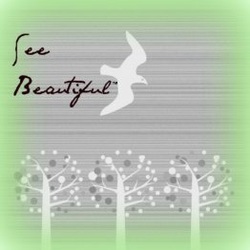 See Beautiful™ was born from a collective voice of concerned individuals who noticed (1) Women are beautiful! (2) Society tells us otherwise; and (3) We're not okay with society's message to question our inherent beauty!
See Beautiful™ strives to be a place where girls and women feel empowered, feel themselves, and recognize their beauty.
See Beautiful™ is forever committed to supporting females and spreading the message that YOU ARE BEAUTIFUL.
Below you will find a comprehensive list of resources supporting girls and women! Check out our "See Beautiful's" page to celebrate our See Beautiful Woman of the Month!
Below you'll see beautiful in:
Our See Beautiful Woman of the Month
Excellent resources for Girls and Woman
---
---
Crossing paths virtually with Jewel Fries was a gift. She's one of those people who not only sees beautiful, but spreads it through her art, her writing, and her sharing with others. We've learned from Jewel how to see beautiful more deeply and honestly. After we read her submission we had full-body chills, tears brimming in our eyes, and a giant smile plastered for all the world to see. Perhaps it's her honesty associated with seeing beautiful that left us thankful, but it also could have been the way she opened the door for us, and others, to create space in our lives for more beautiful; spinning beautiful throughout our days. Thank you Jewel, for such a gift. It is an honor to celebrate you as our See Beautiful Woman of the month!

---
See Beautiful Woman of the Month: Jewel Fries

by Jewel Fries

_
I am very honoured that Lydia has given me the opportunity to share how I see beautiful in myself and the world around me. Thank you Lydia for helping me to see beautiful every day.

_
The word beauty brings obvious things to my mind: my family, a new born baby, a fall day, holding hands, fireflies, a child's hug. Just thinking of those things puts a smile on my face and a warm feeling of satisfaction washes over me; I can feel the beauty. However, I've learned beauty is not always obvious.
I love to explore my creativity through drawing and painting. I usually start off with a vague idea, nothing too detailed. I'm always intrigued to see what it turns into. I was experimenting with colour wash effects which consisted of wetting my paper, randomly dropping paint from my brush onto the paper and allowing it to flow. As I set them aside to dry I fleetingly thought one "sorta looks lie some fruit." Later when I cam back I thought, "Hmmm, now it looks more like a clown." What started out as a simple exercise in experimentation resulted in a painting that I quite liked; beauty can be very unexpected.
Shortly after finishing the painting I was reading through some of the inspirational quotes I collect and four caught my attention:
"Don't be afriad to go out on a limb. That's where the fruit is." H. Jackson Brown
"What we see depends on what we look for." John Lubbock
"People see only what they are prepared to see." Ralph Waldo Emmerson
"Many of the truths we cling to depend greatly on our point of view." Obi-Wan Kenobi
Reading them made me think of the painting, and especially how we interpret beauty. I decided to inspire myself and some of my friends by putting the quotes and painting together, creating bookmarks to give as gifts. I was surprised how many other things people saw in the picture and how much they appreciated the bookmarks. More unexpected beauty, and it felt fantastic.
I think we've all had some days that do not feel beautiful at all. The beauty is hiding, elusive; but even then, I'm learning that it's still there. A few weeks ago I spent too many apprehensive hours in the ER waiting to be assured I was fine. I was trying to see beautiful. I kept looking at my See Beautiful bracelet, but even it wasn't really helping. The waiting room was full, most waiting in silence, I could feel the tension. I just wanted to go home. A woman came in, registered and sat down beside me. She was the type of person who just blended in, but she exuded this beautiful calm. Taking a hand held spindle from her bag she began to spin wool into yarn. It seemed magical, as I watched the spindle dance and turn, the weight of waiting lifted. People who had been silent for hours started asking her questions and visiting; a conversation began behind me. The entire atmosphere was transformed in less than five minutes. I looked up to see people smiling. My name was called; for a split second I was almost sorry I wouldn't be able to hear the end of her story and see her finish spinning. I was sent home, all was well. I think I might try my hand at spinning.

The beauty had been very elusive as the hours slowly ticked by, but it was there, and I'm very happy I recognized it. The experience enabled me to see beautiful through the "Spinner" and by reaffirming my health.

The obvious, the unexpected and even the elusive; all beautiful. The more I see beautiful the more I find to see beautiful in. The more I see beautiful, the more I seem to experience synchronicity and opportunities arrive. Remember the bookmarks? One of the people I decided to share a bookmark with was Lydia because her dedication to empowering people, especially girls and women, to see beautiful everyday really inspires me. The day she received the bookmark just so happened to be the day I emailed her a snow picture I had taken and wished her a beautiful day. My first thought when I'd seen my snow covered van windows was, "Yuck, I'll have to scrape windows." Then I thought, "Wow, that's kinda cool, like a blank canvas." On a whim, I decided to share that moment with "See Beautiful."


Very unexpectedly, Lydia emailed me right back thanking me, and asking me if I'd like to share how I see beautiful. I didn't see that one coming. However, it fit right in with what I've been feeling inspired to do, to help people recognize the beauty when it's especially elusive. That's when finding beautiful is a challenge. It's when people need to "see beautiful" the most. Part of realizing that is helping people of all ages to go beyond thinking "outside the box," to help them realize the box was never there in the first place. I want to join in creating an environment where enthusiasm, thoughts, ideas and solutions have no bounds. Where elusive becomes obvious.

I've been thinking about how to do this and Lydia has unknowingly helped me find my direction. I'm excited to see where it will all lead. I'm fairly certain it will be beautiful.

---
Recommending a See Beautiful™ Girl or Woman of the Month

Every month
See Beautiful™will select a beautiful girl or woman of the month.
Here's how is works:
1. You email us (mystory@seebeautiful) why YOU or SOMEONE you know is beautiful. You can talk about your own beauty or how you see beautiful in the world.
2.
In your email, include contact information so we can email you if you're selected.
3. You'll be free to share a picture of yourself or any image you want that feels represents you.
4. We'll feature all you beautiful girls and women and can't wait to show society how BEAUTIFUL we are!!
Past See Beautiful Girls & Women of the Month
---
RESOURCES FOR GIRLS AND WOMEN

As we scour the planet searching for
See Beautiful™ exemplars, we'll share them here. Consider this a resource for finding more like-minded people involved in the movement to support girls and womens' empowerment of their own beauty, strength, and ability.
ALLIANCE FOR GIRLS: "Girl-centered, Community-based organizations and individuals committed to assessing and addressing girls' needs and helping girls reach their potential":
AMAZING WOMEN ROCK: They honor, support, and celebrate amazing women!
BE YOU BOLD: "BOLD Magazine promotes confidence, strength, and self esteem. Their goal is to empower young women to be themselves through encouraging and engaging media."

BEAUTY REDEFINED: "Taking back 'beauty' for girls and women everywhere!"

BEAUTY COCOON: Committed to "helping young women to realize their potential and live life to the full through exploring their identity."
CARE: "Defending dignity. Fighting poverty."
DAY OF THE GIRL: "The Day of the Girl is about highlighting, celebrating, discussing, and advancing girls lives and opportunities across the globe."

EVE'S CIRCLE: "Empowering the girls of today to become the women of tomorrow!"

FEELGOOD STYLE: "Reclaiming what style means by choosing products that are good for you and for the planet and by focusing on health, happiness, and natural beauty, inside and out."
FLOWER POWER MOM: Honoring the truth about motherhood after 40
F.L.Y. MENTORING SERVICES: "Dedicated to teaching lifeskills, etiquette, and self-esteem to African American girls the ages of 11-17."
GET C* FIT: "Creating a world where its about what your body can DO, not what it looks like. Fuel your body and feel the difference exercise makes in your life"
GIRL ADRENALINE PRODUCTIONS: "Bridging the gap between girls & bullying, social media dangers & sedentary lifestyles."
GIRL INFINITY: "An empowering social network for girls."

GIRLS FOR A CHANGE: Where "girl power" and activism result in change.

GIRLS GUIDE TO SWAGGER: On a mission to raise female confidence and empower women

GIRLS LEADERSHIP INSTITUTE: "Inspiring girls to be their true selves"
GIRLS ONLY CLUB: Reaching out to girls worldwide to help them "appreciate differences, life situations, or overall hardships"
GLOBAL FUND WOMEN: "Promoting women's economic security, health, education and leadership"

GLOBAL GIRL MEDIA: One woman's belief in the power of her voice
GLOBAL WOMEN'S NETWORK: "striving to be the largest collaborative information source on women's and girls' organizations operating around the world."
HAILEY'S HOUSE: "Bridging the gap between parents and teens by guiding middle school-aged girls to become the best version of themselves and empowering parents with the skills necessary to continue to bring the best out of their daughters."
INTERNATIONAL PRINCESS PROJECT: "Advocating for women in enslaved prostitution. Restoring their broken lives. Empowering them to live free.

REALIZE YOUR BEAUTY, INC.: "Promotes positive body image by way of the arts."
SEE MAGAZINE: Sharing stories of "empowered girls and women."

SELF USA: "Entrepreneurship, Leadership, & Social Network for Girls."

SHE HEROS: Inspiring girls to be the world's next heroes
SHE'S THE FIRST: Committed to providing education for young girls
SheWill: "Organization committed to educating young girls (age 8-17) on the importance of financial literacy and career empowerment."

THE DRESSING ROOM PROJECT: "Promoting positive body image through girls' social activism - encouraging a healthy body, mind and spirit."
THE GIRL EFFECT: Arming Girls and Women with the opportunity to make a difference
THE GODDESS PROJECT: Celebrating the stories and lives of women around the United States through a documentary film.
THE RUBY PROJECT: "Simply, beautifully, undeniably, ruby." Inspiring girls to empower themselves and others.

THINK PEACE WORKSHOP: Committed to teaching peace building through global awareness and sensitivity
UN WOMEN: "United Nations Entity for Gender Equality and the Empowerment of Women and Girls

WE ARE PRICELESS: Committed to helping women understand they are "priceless"

WOMEN FOR WOMEN: Helping women survivors of war rebuild their lives
---
Have a resource to suggest?

---
See Beautiful™ © 2011-2013. All Rights Reserved.